Upgrade your sanitary facilities with Kassel's rich matt black finish across our wide array of high design fixtures, enhancing your lavatories with an air of sophistication and elegance.
Kassel's products enrich public washrooms with a variety of designs, adding an air of elegance while maintaining excellent performance, durability, high and low temperature protection, and scratch resistance.
The following Kassel products are available in a range of colors and specialty finishes including PVD Satin Gold, PVD Copper, Antique Bronze, and Stainless Steel (AISI 316 material).
Simple, elegant and durable touch-free wall-mounted faucets that are easily installed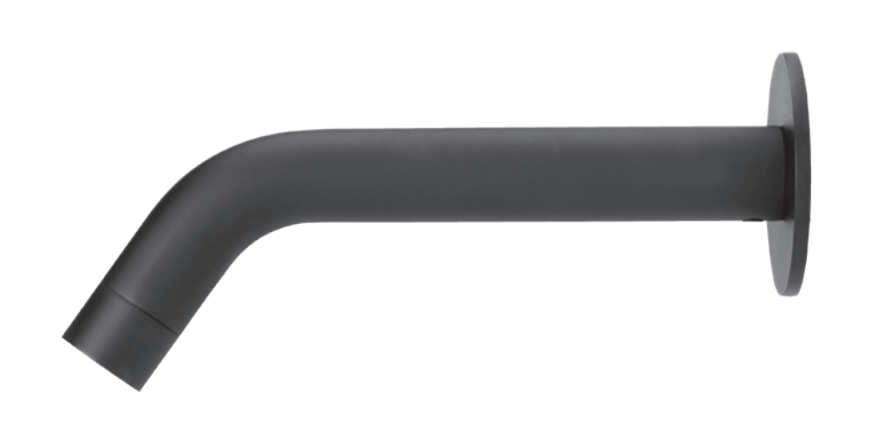 Activated by a concealed sensor built into the spout, this wall-mounted faucet combines a minimalistic design with vandal resistant features and helps washrooms stay clean while saving water. 
Easily installed, this electronic faucet is resilient under the harshest conditions and ideal for shopping malls, sports facilities and entertainment centers.
Dripless & clog-free for long-lasting use and washroom cleanliness
This touch-free electronic soap dispenser for wall mounted installations in brick walls is activated by infrared sensor and can be used with any non-proprietary soap. It includes a designated peristaltic pump that prevents clogging and backflow and a dripless automatic shutoff to ensure washroom organization and cleanliness.
Combined with the touch-free electronic faucet, it creates an automated germ-free environment ideal for stadiums, highway rest stops, and other transportation hubs characterized by heavy traffic, such as train stations.
Prevent cross contamination and ensure proper hygiene with this deck-mounted soap & water set
A robust yet elegantly designed touch-free deck-mounted electronic faucet for cold or premixed water that is activated by a concealed sensor built into the spout. Powered by an IP67 dual power input box connected with a power splitter to a 12V transformer, the faucet includes an integrated backup system for use with a 9V lithium battery in case of power failure.
The matching touch-free electronic soap dispenser for deck-mounted installations includes a 1-liter soap bottle and bottle support, and helps washrooms stay clean while saving water and soap to prevent cross contamination.
Ensure neater and cleaner washrooms with a touch-free electronic flush valve sporting a minimalistic style perfect for locations with high design standards
For urinals: Activated by an infrared sensor, this touch-free electronic flush valve for urinals ensures water will start flushing once the user moves away, making for neater, cleaner facilities while drastically reducing water consumption. The pre-flush option and a preset 24-hour flush further ensure the highest standards of hygiene, ideal for educational institutions, gas stations, and restaurants. Easily installed, the flush valve for urinals also comes with a shut-off valve and filter and its sensor settings can be easily adjusted by remote control.

For water closets: The touch-free electronic W.C. flush valve comes with a piezoelectric or manual override flush activator button and is activated by a dual flush infrared sensor. Water flushes after users move away from the toilet, and if they spend less than one minute in front of the sensor, a half flush of less than 3 liters will be activated.